Location:
Foothills 48 Edinburgh Road Mooroolbark 3138
The 11th Samoyed National Championship Show will be held in Melbourne Australia in 2019 commencing on the evening of Thursday 25th April, Friday 26th April, Saturday 27th April & Sunday 28th April 2019. This will be held at the FOOTHILLS CONFERENCE CENTRE, 48 EDINBURGH ROAD, MOOROOLBARK, VICTORIA.  All accommodation should be booked through the Foothills Conference Centre.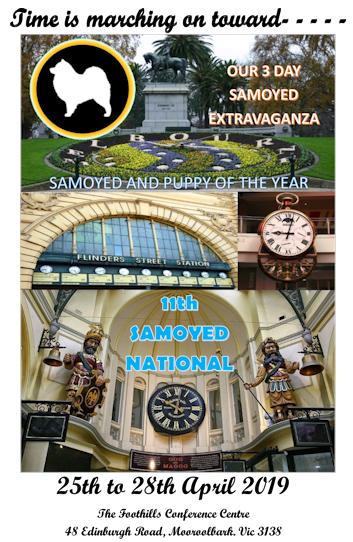 Further programme details to be advised.
 11th SAMOYED NATIONAL CHAMPIONSHIP SHOW 2019
 LOCATION AND TRANSPORT DETAILS FOR OUR VENUE
 
FOOTHILLS CONFERENCE CENTRE
 48 EDINBURGH ROAD MOOROOLBARK 3138
            Foothills Conference Centre is set on a rustic 20 acre site in the outer eastern suburbs of Melbourne and is located just 45 minutes from the CBD and is easily accessible from major freeways.  Situated in Mooroolbark, a suburb of Melbourne, Victoria, 31 km east from Melbourne's central business district.
            As a popular tourism point the nearby Dandenong and Yarra Valley Ranges offer a unique range of tourism experiences for visitors.  The popular Puffing Billy Railway, a steam engine tourist railway, runs through the southern parts of the Dandenongs.  The scenic drives are popular among many Melbournians and there are many wineries located in the nearby Yarra Valley.
            The Healesville Sanctuary is a well known tourist destination and is only just a short drive and is well worth the visit.
            To find out more details on our venue facilities and accommodation visit their website.
http://www.foothillsconferencecentre.com.au/

ACCOMMODATION: http://forms.jims.net/view.php?id=137378
HOW TO REACH FOOTHILLS BY PUBLIC TRANSPORT
            If you are travelling by air and landing at Melbourne Airport, the cheapest way to get to Foothills is by the Sky Bus from the airport to Southern Cross station, which is in the centre of Melbourne.  The fare for this bus is $18.00 AUD and the bus's run every 10 minutes, the trip lasting on average 25 minutes.  
            You can then catch a train from this station to Mooroolbark station which is on the Lilydale line.  The fare for this leg of the trip is $5.00 AUD for which you will need a MYKI pass that can be purchased at Southern Cross station.  If you catch a taxi from Southern Cross to Foothills, the fare will set you back approx $95.00 AUD. Uber approximatly $80.00 - $100.00
            If travelling by train to Mooroolbark station, where there is a taxi rank, the taxi fare from the station to the Foothill Conference Centre 48 Edinburgh Road should cost a fare of approx $10.00 AUD.
HOW TO REACH FOOTHILLS BY PRIVATE TRANSPORT FROM MELBOURNE AIRPORT
Melbourne Airport, Departure Dr 59.3Km 53 min approx. depending on time of day.
Melbourne Airport VIC 3045, Get on M2 from Melrose Dr, 1.7 km / 2 min, 
Follow M2 to Brunswick Rd/State Route 38 in Brunswick West. Take the Brunswick Road/State Route 38 exit from M2, 14.9 km / 10 min. Take Park St, Lygon St and Alexandra Parade/Eastern Hwy to M3 in Clifton Hill, 6.3 km / 11 min. Follow M3 to Ringwood Bypass. Take the Ringwood Bypass exit from M3. 22.1 km / 15 min. Merge onto Ringwood Bypass 1.7 km Continue on Ringwood Bypass. Continue onto Mount Dandenong Rd 7.4 km. Turn left onto Durham Rd 1.2 km At the roundabout, take the 2nd exit on to Cambridge Rd, Go through 1 roundabout, 1.5 km,  Turn left onto Belfast Rd, 900 m, Turn right onto Cardigan Rd, 76 m, Slight left onto Belfast Rd, 800 m
Turn left onto Edinburgh Rd, 600 m, Foothills Conference Centre, 48 Edinburgh Rd Mooroolbark VIC 3138
DISABLED ACCESS IS AVAILABLE THROUGHOUT THE FOOTHILLS CONFERENCE CENTRE

BREED STALLS

Stalls displaying information about the breed and items of Samoyed theme will be available.  More details of times for setting up of areas and when those attending can have access to peruse will be notified at a later date.
UPDATES WITH MORE DETAILS AND INFORMATION ON ALL OUR EVENTS.
Updates will be placed regularly so keep checking this website, facebook and the Samoyed Club Of Victoria Inc facebook sites for information on all events being held on the 25, 26, 27 & 28 April 2019.
Samoyed Enthusiasts worldwide are invited to attend the 2018 Samoyed and Puppy Of The Year and the  2019 Samoyed 11th National Championship Show in Melbourne.  If you are interested in attending or want further information please contact samoyedclubofvic@y7mail.com
CLICK HERE FOR INFORMATION BOOKLET ON VENUE AND PROGRAMME DETAILS
CLICK HERE FOR  AVAILABLE BOOKLET FOR MERCHANDISE AND SOUVENIR PLATE WITH ORDER FORM
Just to let all know that unfortunately we will be unable to supply the caps featured in the merchandise featured, however we have a wide range of items to choose from. Do not forget to get your orders in early. All items will have the National logo.
This booklet covers menu package details and costs for each day.
Form 2 Meet & Greet, Thursday 25th April
Form 3 2018 Samoyed & Puppy of the year Friday 26th April