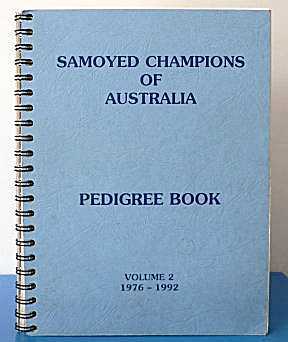 THE SAMOYED CLUB OF VICTORIA HAS PRODUCED TWO VOLUMES OF PEDIGREES.  
THESE HARD COVERED PUBLICATIONS OF DURABILITY AND QUALITY LIST THE PEDIGREES OF IMPORTS INTO AUSTRALIA FROM 1929, CHAMPIONS FROM 1932 AND WITH PICTORIAL SECTIONS ON SAMOYEDS OF YESTERDAY AND TODAY. 
THESE BOOKS (VOLUME 1 NOW IN VERY LIMITED SUPPLY) MAY BE OBTAINED BY CONTACTING THE PEDIGREE BOOK CONVENOR, RON ADDISON , 98 MAROONDAH HYW.,  CROYDON, VICTORIA,  AUSTRALIA 3136 PHONE:- 61 3 9723 2766  MOBILE:-0407 803 032  EMAIL:-polastar21@bigpond.com
ALL SAMOYED OWNERS WHO HAVE TITLED THEIR SAMOYEDS IN CONFORMATION OR OBEDIENCE IN AUSTRALIA OR HAVE IMPORTED A SAMOYED, MAY SUBMIT THE PEDIGREE OF THEIR DOG TO THE PEDIGREE BOOK CONVENOR FOR INCLUSION IN FORTHCOMING EDITIONS OF SAMOYED CHAMPIONS OF AUSTRALIA.
This volume contains the pedigrees and champions between 1976 to 1992.